Paper Mill at Velké Losiny
Not far away from Šumperk, in the picturesque valley of the river Desná, lies the village of Velké Losiny. The village is interesting for its rich history and spa tradition going back hundreds of years. There is also a famous paper factory, which was established at the local estate of moravian noblemen from Žerotín in 16th century. The manufacture of Velké Losiny is among the oldest establishments of its kind that are still active in Europe. Even today the paper is being manufactured here the traditional way, from cotton and linen. Velké Losiny is 32 kilometres from EFI ApartHotel.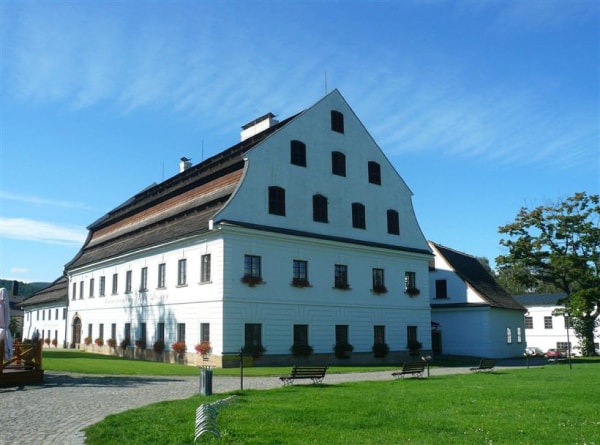 Witchy history of the paper factory
Business did not go very well for some of the paper manufacturers here. The history of this building was also affected by the grim and dark era of witch-hunts. The story we know from the movie Witchhammer happened in the region of Losiny. A memorial stands right in front of the local church where you can read about a beggar who was caught stealing sacramental bread. This event lead to the start of which-hunting processes at the end of 17th century. One of the first victims was Barbora Göttlicherová, the wife of the local paper manufacturer. Over a hundred of innocent people died here as victims of these witch-hunts.
The factory also houses the Museum of Paper. Paper manufacture here shows the traditional manufacturing technology of paper and the history of the craft. During the main tourist season you can even try making your own paper. The products of the factory are exported all over the world. Next to the museum there is a gallery as well. Art pieces related to manufactured paper or local region are being presented there. The paper manufactured here is used mainly for arts due to its high quality. The area was proclaimed National Historic Landmark in 2002.