Castles and Ruins
V okolí našeho EFI ApartHotelu si můžete udělat výlet po několika zříceninách. K některým lze dojít i pěšky, většina je ale vzdálena minimálně 20 kilometrů. Přímo ke hradům si ale budete muset udělat procházku jesenickou přírodou.
You can take a trip to several castle ruins in the surroundings of our EFI ApartHotel. Some of them are within walking distance. Most of them, however, are at least 20 kilometres away and you will have to take a walk in the countryside of Jeseníky for the last portions of the paths leading to the castles.
Hrad Rychleby leží čtyři kilometry od Javorníka. Zřícenina se nachází nedaleko zámku Jánský vrch. Stezka k němu patří k těm těžším, ale výlet po tajemných, romantických a tichých Rychlebských horách stojí za tu námahu. Nejsou nejvyšší, ale jsou to jedny z nejopuštěnějších hor v Česku.
Rychleby Castle is about four kilometres away from Javorník. The ruins are located not far away from the chateau of Jánský vrch. The trail going to the castle is one of the more difficult ones, however a walk through the mysterious, romantic and quiet Rychlebské Mountains is well worth the exercise. They are not the highest mountains in the republic, but they are among the least inhabited ones.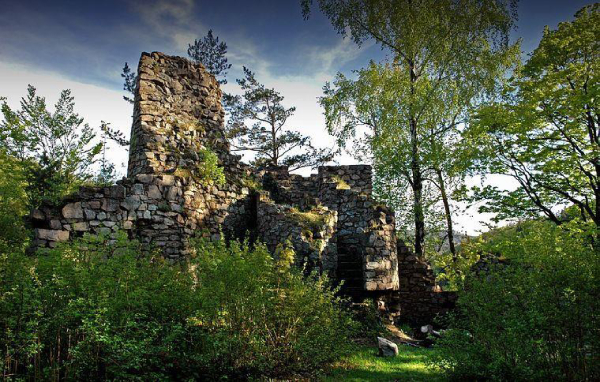 Do Javorníku autem nebo vlakem, dál po svých
EFi Aparthotel se nachází v horní Lipové, ve které je i vlaková zastávka. Pokud si chcete odpočinout od řízení, můžete využít místní železnici a vypravit se do Javorníku vlakem. Díky těžko přístupnému terénu ale budete muset dál pěšky. Ke zřícenině se dostanete z Jánského vrchu nebo z Račího údolí u Javorníku. Leží na skalnatém výběžku Přílbového vrchu.
By car or train all the way to Javorník, from there on foot
At Horní Lipová, where the EFI ApartHotel is, there is also a train station. In case you want to take a break from driving, you can use the local railway and go to Javorník by train. However, because of difficult terrain you will have to continue from there on foot. You can reach the castle ruins from Jánský vrch or from Račí údolí by Javorník. They are located on a rocky outcrop of Přílbový vrch.
Žádné dochované písemné zprávy
Rychlebský hrad působí tajemně už jen proto, že o jeho existenci a funkci neexistují téměř žádné písemnosti. Proto se můžeme jen dohadovat, k čemu a komu hrad v historii sloužil. Ani jméno hradu není původní. Název dostal podle hor. Přesně se neví, jestli hrad vznikl ve 12. nebo až ve druhé polovině 13. století. Nepřesná zpráva hovoří, že Stanislav I. Thurzo vypravil proti hradu silné vojsko, které hrad dobylo a zbořilo. Zříceninu opravila skupina aktivistů na začátku 20. století. Je možné, že změnili i původní půdorys hradu.
No preserved written records
Rycheby Castle is mysterious solely for the reason that there are almost no written records about its existence or function. All we can do is guess the historical purpose of the castle. Even the name of the castle is not orginal - it was derived from the name of the mountains. Whether the castle was built in as soon as 12th century or as late as the second half of 13th century is unknown. An inaccurate record states that the castle was conquered and ruined by a strong army sent there by Stanislav I. Thurzo. The ruins were reconstructed by a group of activists in 20th century, but it is possible that they changed the original floor plan of the castle.
Kaltenštejn se pyšní dochovaným torzem hlásky
O zřícenině hradu Kaltenštejn jsou první zmínky z poloviny 13. století. Nachází se asi 2 kilometry od obce Černá Voda. Jeho původní název – Castrum Kaldensteyn, znamená v překladu "hrad na studené skále". V 15. století se hradu zmocnil Zikmund Rachna, který unesl dceru Půty z Častolovic, stoupence protihusitského odboje. Z mohutné stavby zůstala jen torza některých zdí a 20 metrů vysoká hláska.
Kaltenštejn je z Horní Lipové vzdálen 20 kilometrů. Přístupný je z obce Černá Voda. Stezka ke zřícenině je dlouhá asi dva kilometry. Hrad se nachází na skalnatém vrcholu kuželovitého kopce. Vlakem a autobusem se půlhodinová cesta protáhne na hodiny dvě, protože je nutné několikrát přestupovat. Proto je lepší dojet do obce autem.
A preserved tower fragment is the pride of Kaltenštejn Castle
The first records about the castle are from the half of 13th century. It is located about 2 kilometres from the village of Černá Voda. The meaning of its original name - Castrum Kaldensteyn - is "castle on cold rock". In 15th century the castle was conquered by Zikmund Rachna, who kidnapped the daughter of a nobleman Půta of Častolovice, a supporter of anti-Hussite resistance. Only fragments of some walls and a twenty-meter-high tower remained.
Kaltenštejn is about 20 kilometres away from Horní Lipová. It can be approached from the village of Černá Voda. The trail leading to the ruins measures about 2 kilometres. The castle sits on a rocky top of a conical hill. The 30-minute-long journey takes about two hours by train or by bus, as a few transfers are necessary. Therefore it is better to go to the village by car.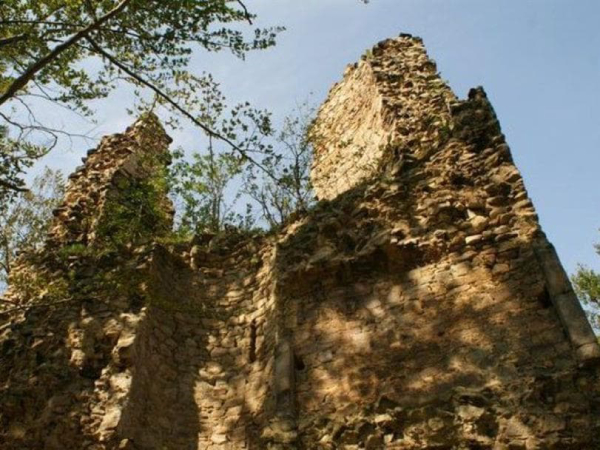 Nový Hrad ochraňoval obchodní stezky
Mezi Kopřivnou a Bohdíkovem je ukryta další zřícenina, Nový Hrad. Kdysi patřil k největším moravským hradům. Jeho úkolem bylo ochraňovat důležitou obchodní stezku mezi Moravou a Slezskem. Dodnes se dochovaly věže, brány, bašty i hradební obranné zdi. I milovníci pověstí si zde přijdou na své. Kdysi dávno se zdejší hradní paní zamilovala do svého panoše. Ten však miloval její komornou. Nešťastná láska donutila Ofku k hrůzným činům. Nejdřív nechala zavřít panoše Petra a poté otrávila komornou Bětušku. Klíč k vězení někde ztratila a Petr žalem i hladem zahynul. Hradní paní se dočista zbláznila a na hradním nádvoří ji našli svírajíce ztracený klíč mrtvou.
Nový Hrad je z eFi Aparthotelu vzdálen 32 kilometrů. Ke hradu se můžete dostat rovnou ze tří směrů. Pokud pojedete vlakem, mohli byste vystoupit na zastávce v Raškově, ze které po necelém kilometru a půl dojdete po nijak náročném výstupu ke zřícenině. Z Bohdíkova, též z vlakového nádraží, je cesta o pár kilometrů delší. Zřícenina je odtud vzdálená asi 5 kilometrů. Poslední stezka vede z Kopřivné přes osadu Lužná.
Merchant roads protected by Nový Hrad
The ruins of Nový Hrad castle are hidden between Kopřivná and Bohdíkov. It used to be one of the largest Moravian castles. Its purpose was to protect an important merchant road between Moravia and Silesia. Towers, gates, bastions, even defensive castle walls were preserved. Lovers of legends are in for a treat here, as there was a castle lady who fell in love with her squire. Only he was in love with her chambermaid. Unrequited love forced lady Ofka to hideous deeds. First she had Petr the squire thrown into prison and then she poisoned her chambermaid Bětuška. She lost the key to squire's prisoncell somewhere and as a result Petr died of heartbreak and hunger. The lady of the castle went mad and later she was found dead in the castle courtyard clutching the lost key.
The castle Nový Hrad is 32 kilometres away from EFI ApartHotel. You can approach the castle from three directions. If you go by train, you can get off at the station in Raškov, then walk for less than one and a half kilometres before you reach the ruins. The road from Bohdíkov train station is longer by few kilometres. The ruins are about 5 kilometres away from there. The last option is taking the road from Kopřivná going through the village of Lužná.
34 kilometrů vzdálený Rabenštejn
O této zřícenině je k dispozici pouze jedna zmínka ze 14. století. Ulman z Linavy oloupil a zavraždil poddané vratislavského biskupa. Listina je datována mezi lety 1318-1342, kdy se vlády na Opavsku ujal vévoda Mikuláš II. Rabenštejn patřil k těm menším hradům bez sídelní funkce. Hrádek se nachází na úbočí hory Pytlák. Ze samotného hradu toho moc nezbylo. Trosky moc lákavé nejsou, ale okolí je kouzelné.
Ke hradu je možné dostat se dvěma způsoby. První cesta vede z Vrbna pod Pradědem podél Střední Opavy. Po zhruba třech kilometrech přejedete mostek, ale dál už je vjezd zakázán. Poté dojdete ke zbytkům Rabenštejna. Další cesta vede ze soutoku Střední Opavy a Bílého potoka z osady Bílý Potok. Po kilometru dojdete pod skalisko, na kterém se nachází zbytky hrádku. Z eFi Aparthotelu je zřícenina vzdálená zhruba 34 kilometrů.
34 kilometres to the castle of Rabenštejn
There is only one record from 14th century available regarding this castle - when Ulman of Linava robbed and killed subjects of Wroclaw bishop. The document is dated between 1318 and 1342 when duke Nicolas II. was ruling the Opava region. Rabenštejn castle was among the smaller non-residential castles. The castle lies at the mountainside of Pytlák Mountain. There is not much left of the castle itself, but even though the ruins are not very enticing, the surrounding country is quite charming.
There are two ways how to get to the castle. The first one is from Vrbno pod Pradědem alongside Střední Opava. After about three kilometres you will cross a bridge, but cars are not allowed from there on. You will reach the ruins of Rabemštejn on foot. The next way goes from the confluence of Střední Opava and Bílý Potok in the village of Bílý Potok. After one kilometre you will come to the rock formation on which the remains of the castle are located. The ruins are about 34 kilometres away from EFI ApartHotel.